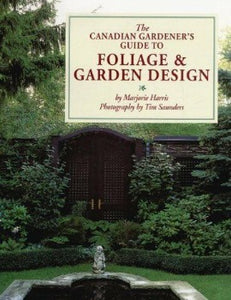 Condition: Like New - Pages are clean crisp and not marred by notes or writing. The binding is tight. The spine is undamaged.  Appears unread. Dust Jacket is very good+ with minor wear.
The Canadian Gardener's Guide to Foliage & Garden Design is the perfect inspiration for hands-on gardeners and garden-lovers alike. It is a comprehensive guidebook for both the expert and beginning gardener, filled with indispensable gardening tips, design suggestions, plant listings, zone guides and solutions to many gardening problems. 
Marjorie Harris and photographer Tim Saunders criss-crossed the country taking hundreds of pictures and talking to gardeners about their ideas, problems, solutions, and gardening advice. 208 beautiful pictures feature gardens from across Canada.
Publishing Details
Hardcover: 208 pages
Publisher: Random House Canada; (1993)
ISBN-13: 978-0394222318
Dimensions: 28.2 x 23.4 x 1.8 cm
Weight: 1.2 kg