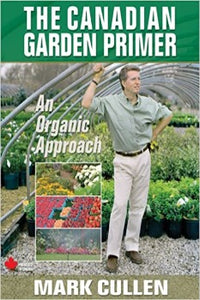 Condition: Like New  Pages are clean crisp and not marred by notes or writing. The binding is tight. The spine is undamaged. Dust Jacket shows minor wear. Appears as unread.
 In The Canadian Garden Primer,  garden guru Mark Cullen draws on his extensive experience to offer an easy-to-understand, comprehensive guide to designing and creating organic gardens of every size and kind, including suburban back yards, city plots, northern gardens and vegetable patches. He provides detailed chapters about soil-building, watering, mulching and other techniques. And he tells you what plants, especially native plants, work where, and how to grow them properly. 
Full of information and anecdotes, and illustrated with more than 400 full-colour photographs, The Canadian Garden Primer is an indispensable book for both a neophyte or an expert organic gardener.
Publishing Details
Hardcover: 208 pages
MaryMark Communications (Dec 15, 2008)
ISBN-13: 978-0978266523
Dimensions: 21.6 x 1.9 x 27.9 cm
Shipping Weight: 1.2 kg