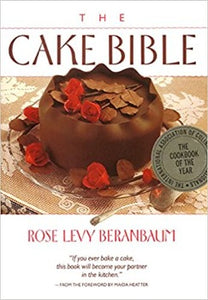 Condition: Very Good + Best Seller
As a writer for food and women's magazines, including The New York Times, Rose Levy Beranbaum's trademark is her ability to reduce the most complex techniques to easy-to-follow recipes. 
The Cake Bible shows how to:
Mix a buttery, tender layer cake in under five minutes 
Make the most fabulous chocolate cake with just three ingredients
Make cakes with less sugar but maximum flavour and texture
Make many low-to-no-cholesterol, low-saturated-fat recipes.
You will find recipes for every major type of cake, from pancakes to four-tiered wedding cakes. This is the definitive book on cakes by the country's top cake baker. Rose makes baking a joy. 

Publishing Details
Hardcover: 592 pages
William Morrow Cookbooks; Illustrated edition (Sept. 20 1988)
ISBN-13: 978-0688044022
Dimensions: 17.78 x 4.39 x 25.4 cm
Weight: 1.3 kg

Oversized title shipping charge: $6.95