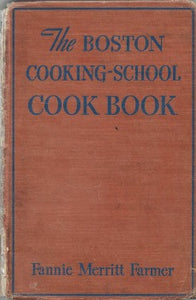 Condition: Acceptable   Cover is worn. Corners are chipped. The spine cover is missing and cocked. The text is clean with limited stains. No torn or missing pages.  
The Boston Cooking School was founded in 1879 by the Women's Education Association of Boston "to offer instruction in cooking to those who wished to earn their livelihood as cooks, or who would make practical use of such information in their families."  
In 1889, Miss Fannie Merritt Farmer was invited to remain after her own graduation to serve as assistant principal.  The school became famous following the 1896 publication of The Boston Cooking-School Cook Book by its principal at the time, Fannie Merritt Farmer.
Publishing details
Hardcover: ‎830 pages
McClelland & Stewart (8th Edition) 1st Canadian Edition (January 1, 1946)
ASIN: ‎B0007ECQE2
Dimension: 14.3 x 4.4 x 20.9 cm
Weight: ‎930 g