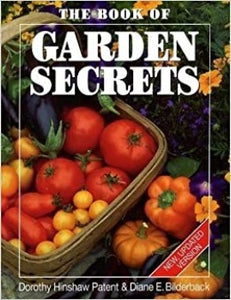 Condition: Like New
From the Publisher, The Book of Garden Secrets is "A practical, no-nonsense guide crammed with solid ideas that serve as a quick, painless course in botany as well as a step-by-step, tip-by-tip exploration of the whys and hows of vegetable growing" 
There is a world of challenge and frustration of not knowing why your lettuce is bolting, your tomatoes are cracking and why six-legged intruders are stripping your asparagus.  The Book of Garden Secrets provides the gardener with the advice of two experts whose long experience in growing vegetables under difficult conditions will help avoid the common mistakes.
The authors provide an in-depth understanding of the secret life of plants along with eminently practical tips for growing healthier, more productive and better-tasting vegetables.
What's Growing in The Vegetable Patch
Publishing Details
Paperback: 349 pages
Firefly Books Ltd; (March 1, 1997)
ISBN-13: 978-1552091043
Dimensions: 20.9 x 2.2 x 26.7 cm
Shipping Weight: 908 g