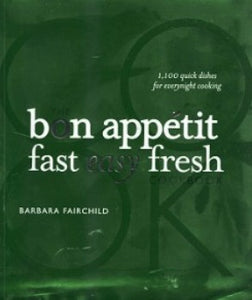 Condition: Very Good -  Text is crisp and clean.  Dust Jacket has minor shelf wear.  
Inspired by the "Fast Easy Fresh" feature in Bon Appetit magazine, this cookbook is a must for people who want everyday dinners that are quick, delicious, and contemporary.  The Bon Appetit Fast Easy Fresh Cookbook is about ease, speed―and taste. 
There are 1,100 recipes, with dishes that take a fun, modern spin like Arugula Salad with Olives, Pancetta, and Parmesan; Roasted Garlic Beef Stew; Linguine with Winter Pesto; Shrimp with Ginger-Herb Butter; Grilled Steak with Fresh Garden Herbs; and Peach Pie with Berry Jam.  Illustrated throughout with line drawings and 32 pages of photographs, this collection of favourite Bon Appetit recipes is a resource for home cooks everywhere.
Publishing details
Houghton Mifflin Harcourt; (Sept. 12, 2008)
Hardcover: ‎832 pages
ISBN-13: 978-0470399125
Weight: ‎2.1 kg
Dimensions: ‎21.2 x 5.8 x 23.9 cm
Oversize Shipping Charge of $10.95