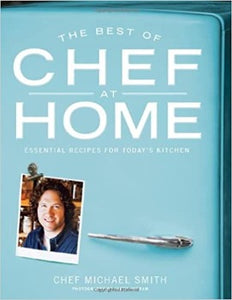 Condition: Like New - Autographed
The Best of Chef at Home is a collection of the recipes, both simple and easy to adapt, the recipes reflect Michael's belief that making great food is about relaxing, enjoying the process, and losing yourself in the moment.

It includes everything from quick recipes for weekday meals, like macaroni and cheese, to fancier fare for entertaining guests, like short ribs braised in red wine. Michael's laid-back approach encourages creativity in the kitchen, with suggestions for altering and adjusting each recipe until it is truly your own. Once you know the basics, you can create flavorful food for your family and friends with a personal touch.
Try Chef Michael Smith's popular Chicken Noodle Soup, Brined Holiday Turkey with Herb Gravy, The Perfect Burger, Classic Chicken Stew, Old-Fashioned Apple Pie and Chocolate Chip Cookies.
Publishing Details
Paperback: 256 pages
Whitecap Books (March 10, 2011)
ISBN-13: 978-1552859841
Dimensions: 21.6 x 2.3 x 27.9 cm
Weight: 1.21 kg