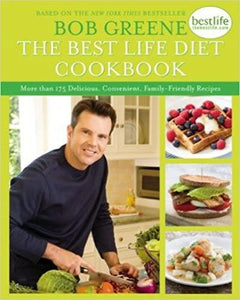 Condition: Very Good +  Appears Unread.  Minor abrasion on Dust Jacket. 

Bob Greene firmly believes that every meal should celebrate both the pleasures of food and your commitment to living your best possible life. 
The Best Life Diet Cookbook provides more than 175 recipes. Slimmed-down comfort foods like Sweet Potato with Turkey Hash and Beef Stew with Winter Root Vegetables make family dinners satisfying and healthful. Also included are three sets of two-week meal plans: The Quick and Easy Plan;  The Family-Friendly Plan; and The Kitchen Connoisseur with recipes from world-class chefs like Charlie Trotter or Suzanne Goin, adapted to fit the Best Life guidelines.   Whether you're trying to drop some pounds or simply maintain your weight, these plans do all the calorie-calculating for you.
Publishing Details 
Hardcover: 368 pages
Simon & Schuster (Dec 30, 2008)
ISBN-13: 978-1416599814
Dimensions: 18.7 x 3.2 x 23.5 cm
Weight: 856 g