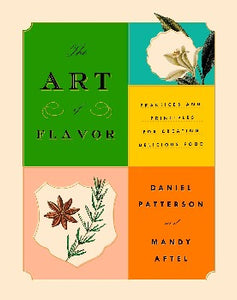 Condition: Like New - minimal shelf wear on dust jacket otherwise in exceptional condition.  
"A brainy, deep-dive exploration into how flavours and aromas form." —Food & Wine, "Best New Cookbooks from Food & Wine Chefs" 
Two masters of composition - a chef and a perfumer - present a revolutionary new approach to creating delicious food. Michelin two-star chef Daniel Patterson and celebrated natural perfumer Mandy Aftel are experts at orchestrating ingredients. Yet in a world awash in cooking shows and food blogs, they noticed, home cooks, get little guidance in the art of flavour. In this trailblazing guide, they share the secrets to making the most of your ingredients via an indispensable set of tools and principles:· The Four Rules for creating flavour

· A Flavor Compass that points the way to transformative combinations
· "Locking," "burying," and other aspects of cooking alchemy
· The flavour-heightening effects of cooking methods
· The Seven Dials that let you fine-tune a dish
With more than eighty recipes that demonstrate each concept and put it into practice, The Art of Flavor is food for the imagination that will help cooks at any level to become flavour virtuosos.
Publishing Details
Hardcover: 288 pages
Riverhead Books (Aug. 1, 2017)
ISBN-13: 978-1594634307
Dimensions: 19.4 x 2.5 x 24.5 cm
Weight: 612 g