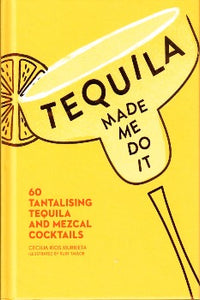 Condition: New Best Seller 
From tequila and mezcal aficionado Cecilia Rios Murrieta comes this brightly illustrated guide to making and enjoying a broad range of agave-based cocktails.
In Tequila Made Me Do It, Rios Murrieta introduces readers to the history and versatility of spicy tequila and smoky mezcal. From the classic margarita and its hibiscus, Cadillac, and tamarind brethren to several less common elixirs, readers can choose among 60 cocktail recipes that are fun to create, and drink!
Publishing details 
Andrews McMeel Publishing (Sept. 17, 2019)
Hardcover: ‎144 pages
ISBN-13: 978-1449499716
Weight: ‎363 g
Dimensions: ‎14.2 x 1.9 x 19.1 cm