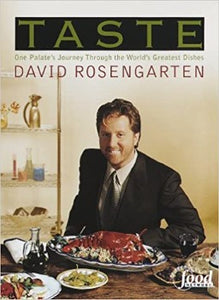 Condition: Very Good 
Do you want to make spice-rubbed ribs the way they're made by the best barbecue cooks in Memphis? Crispy soft-shell crabs that taste like they're right out of Chesapeake Bay?  A moussaka from a great taverna in Greece? Vietnamese summer rolls?  A real tiramisù? A golden, buttery tarte Tatin?  

Rosengarten tells you exactly what to shop for: the bottled hot sauce from the West Indies that makes the best ceviche, or the brand of chocolate that produces the deepest-tasting molten chocolate cake.   A cookbook teaches you how to cook. Taste teaches you how to taste.
Publishing Details
Paperback: 352 pages
Publisher: Random House (Oct. 27, 1998)
ISBN-13: 978-0375752650 
Shipping Weight: 1.15 kg
Dimensions : 18.4 x 1.9 x 26.0 cm