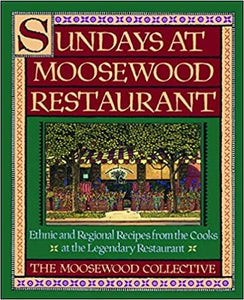 Condition: Very Good Pages are clean and not marred by notes, highlighting or food. The binding is tight. Remainder mark on text block. Minor shelf-wear.  Small moisture stains on index pages do not detract from the text.
Each Sunday at Moosewood Restaurant, diners experience a new ethnic or regional cuisine. From the highlands and grasslands of Africa to the forests of Eastern Europe, from the hills of Provence to the mountains of South America, the Moosewood Collective has drawn inspiration for adaptations of traditional recipes. Including an extensive guide to ingredients, techniques, and equipment, Sundays at Moosewood Restaurant offers a taste for every palate.
In 1973, the Moosewood Restaurant in Ithaca, New York, began as a small vegetable-centric community restaurant. From those modest beginnings, Moosewood Restaurant became named one of the "13 revolutionary restaurants that changed American dining forever" (Bon Appetit Magazine). Moosewood's commitment to wholesome ingredients and ethnic recipes has resulted in three James Beard awards.
Enjoy our other Moosewood Restaurant Titles
Publishing details 
Paperback: 736 pages
Atria Books; Illustrated edition (Oct. 15, 1990)
ISBN-13: 978-0671679903
Dimensions : 18.73 x 4.57 x 23.5 cm
Weight: 1.24 kg