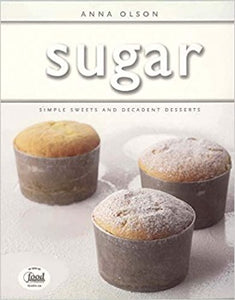 Condition: Like New
Anna Olson has collected simple sweets and decadent desserts that combine the classics with some creations of her own.
Olson organizes each chapter according to the main ingredient: fruit, citrus, chocolate, coffee, vanilla, and nutmeg.  Olson offers a "switch up" on every recipe that allows the chef to add a fresh and unexpected flavour or dress a dessert up for a sense of occasion. --Carolyn Leitch
Throughout Sugar, Anna provides countless tips such as the best way to unmold a cake and how to prevent nuts from becoming a paste in the food processor. She also explains how the following basic rules of baking leads to greater success.
Publishing Details
Paperback: 272 pages
Whitecap Books; 3rd Printing (March 8, 2011)
ISBN-13: 978-1552855096
Dimensions: 20.3 x 1.8 x 25.4 cm
Weight: 738 g