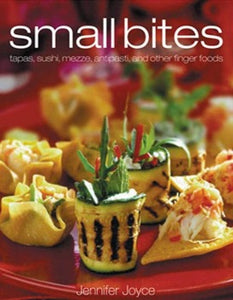 Condition: Good + -has evidence of moisture on back of dust jacket and inside cover.  Not detectable on the book cover or dust jacket. Text in excellent condition. 
Small Bites teaches the preparation of tapas, sushi, mezze, dim sum, antipasti, and many other kinds of finger foods from around the world. This guide contains over 90 recipes to spark your creativity with exotic and traditional finger foods ideal for parties, special events, and snacks.
 With step-by-step guidance and illustrations, Small Bites offers serving ideas, shortcuts, tips on advance preparation and presentation, and what to pair and drink with each dish.   Finger food for every mood and occasion this book is the perfect cooking companion for adding a new dimension to your menu.
Publishing Details
Hardcover: 224 pages
DK (Sept. 19 2005)
ISBN-13: 978-0756613471
Dimensions: 17.8 x 2.3 x 22.6 cm
Weight: 703 g