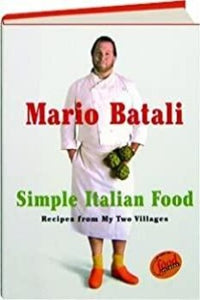 Condition: Like New
Chef Mario Batali has created innovative dishes that pay tribute to traditional Italian home cooking in a distinctly modern way.  More than 200 of his recipes for fresh pasta, salads, grilled dishes, savoury ragus, and many others are gathered in Simple Italian Food, a celebration of the flavours and spirit of Italy.
Mario draws inspiration for his distinctive dishes from the two "villages" that have left their stamps on his cuisine: Borgo Capanne, the tiny hillside village in Northern Italy where he lived and cooked for several years, and New York's Greenwich Village. 
Throughout, Batali provides advice on dish preparation.  Included are 32 pages of colour photos and dozens of black-and-white shots of life in Batali's two villages.  
Visit our Mario Batali Collection
Publishing Details
Hardcover: 288 pages
Clarkson Potter; 1st ed (Sept 29, 1998)
ISBN-13: 978-0609603000
Dimensions: 19.5 x 2.6 x 23.9
Weight: 1.5 kg