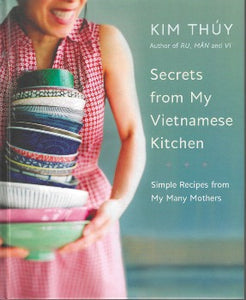 Condition: Like New  Best Seller
Secrets from My Vietnamese Kitchen is an introduction to vibrant cuisine, with more than 50 easy-to-make recipes from internationally bestselling novelist Kim Thúy who ran a celebrated restaurant called Ru de Nam in Montreal. Now, in her first cookbook and part memoir, Kim combines her beautiful storytelling style with simple and wonderful recipes that are full of flavour: surprising yet comforting, and easy enough for every day.
Starting with easily-prepared base ingredients of sauces, quick pickled vegetables and toasted rice flour, we move on to soups, sautés, vegetables, grilled foods, desserts and more. Sample recipes include Stuffed Squash Soup; Vermicelli Bowls; Caramel Pork; Calamari, Pork and Pineapple Stir-fry; Fried Lemongrass Fish; and Vietnamese Tapioca and Banana. This exquisite book deliciously demonstrates that every meal is an opportunity to show love, and to be grateful for those who sit down to eat with us.
Publishing details 
Appetite by Random House, (April 2, 2019)
Hardcover: 192 pages
ISBN-13: ‎978-0525610229
Weight: ‎816 g
Dimensions: ‎ 20.9 x 2.18 x 25.48 cm