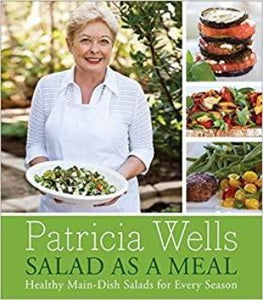 Condition: Like New
Patricia Wells, the grande dame of modern French cooking, is back with Salad as a Meal, featuring original recipes for nature's freshest ingredients.   With more than 150 recipes and glorious photos throughout, Salad as a Meal explores a culinary concept at once simple, elegant, and creative.
It's a simple yet compelling concept: enjoying a light and delicious main-course salad as a healthy, fresh alternative to more conventional and traditional fare. You can experience a whole world in a salad—with tender greens, savoury meat, seafood, vegetable accompaniments, and versatile dressings—and salad-friendly sides such as homemade bread and home-cured olives. 
Patricia also offers recipes for soup sides, as well as bread of all kinds, and a list of Patricia's favourite pantry items, dressings and sauces to inspire readers to come up with their own unique salad creations with ingredients in season and on hand. 
For Your Wellness -Explore our Vegetarian Titles
Publishing Details
Hardcover: 360 pages
William Morrow Cookbooks (April 5, 2011)
ISBN-13: 978-0061238833
Dimensions: 23.5 x 20.8 x 3.2 cm
Weight: 1.3 kg