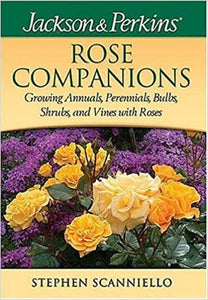 Condition: Good -Text is clean.  Minor shelfwear. Minor moisture stains at the top of some rear pages.
Rose Companions is devoted expressly to the variety of plants that can be grown with roses in the garden. Today's roses offer an impressive array of characteristics that make them ideal plants for many landscapes, including form, colour, and fragrance. The number of plants that make perfect partners for roses is astounding, including Perennials, Annuals, Bulbs, Shrubs, and Vines.
Rose Companions will give gardeners what they need to create a beautiful landscape.  This book is a fabulous resource whether they have an established garden and want to add roses and other plants, or if they are growing roses and want to introduce companion plants, or if they are just starting and have always dreamed of a garden lush with flowers-including roses. 
Visit The Inspired Flower Garden
Publishing Details
Paperback: 224 pages
Thomas Nelson; First Printing (Feb. 21, 2005)
ISBN-13: 978-1591861225
Dimensions: 17.8 x 1.3 x 25.4 cm
Weight: 544 g