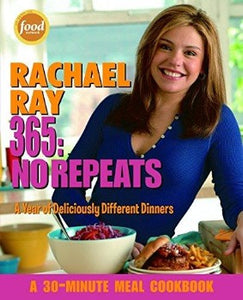 Condition: Very Good  -Crisp and clean.  Appears unread. Minor handling/shelf wear.
Rachael Ray guarantees you'll be able to put something fresh and exciting on your dinner table every night for a full year... without a single repeat!
These recipes prove that you don't have to reinvent the wheel every night. Rachael offers dozens of recipes that, once mastered, can become entirely new dishes with just a few ingredient swaps. 
Drawing from her own favourite dishes as well as those of her family, friends, and celebrities, Rachael Ray 365: No Repeats covers the flavour spectrum from Asian to Italian. 
Publishing Details
Paperback: 352 pages
Clarkson Potter; 1 edition (November 1, 2005)
ISBN-13: 978-1400082544
Dimensions: 18.8 x 2.5 x 23.6 cm
Weight: 840 g