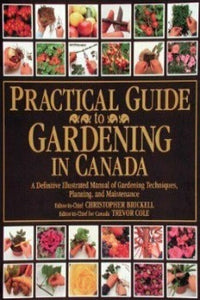 Condition:  Very Good + - Text appears unread. Dust jacket has minor shelf wear. 
Practical Guide to Gardening in Canada
combines easy-to-follow text with more than 3,000 colour photographs to guide both beginners and experienced gardeners through the entire range of gardening techniques, planning and maintenance. Features Include:
Detailed information about garden planning and design.
Soil preparation, planting, routine care, pruning and propagation.
Identifying and controlling pests and diseases.
Abundance in the Canadian Garden
Publishing Details
Hardcover: 648 pages
Reader's Digest Association Canada; (Jan. 1, 1993)
ISBN-13: 978-0888502063
Dimensions: 24.7 x 3.8 x 29.8 cm
Weight: 2.8 Kg

Oversized title shipping charge: $10.95