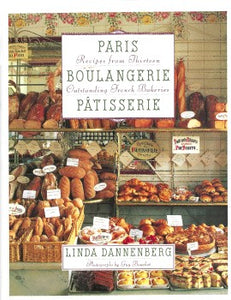 Condition: Very Good -  Text appears unread.  The dust jack has a small mended tear with transparent library tape at the edge of the bottom spine. Barely noticeable.  
Parisian bakeries and pastry shops are renowned for their delectable specialties, such as buttery croissants, Savarin au Chantilly, and chocolate-mousse Le Pleyel. In the follow-up to Paris Bistro Cooking, Linda Dannenberg showcases gourmet bread and pastries from 13 of the city's premier establishments.  Paris Boulangerie-Patisserie offers more than 70 unique recipes from the great bakers themselves, presenting them in straightforward, easy-to-understand recipes.
Experience the finest treats from Paris's bakeries, including Bombes Amandés (Lemon-Almond Cakes) and Mousse au Caramel et aux Poires (Caramel-Pear Mousse Cake) from the oldest pâtisserie, Stohrer. Chocolate creations of Maison du Chocolat with their Délice cake (Chocolate-Cream-and-Macaroon Cake) and delicate lace Florentines. Add some heartiness to your bread basket with Pain de Campagne (Hearty Country Loaf) and the classic Gougerés (Giant Gruyére Cheese Puffs) from the quintessential neighbourhood bakery Haupois. Get transported to Paris with over 150 stunning photographs and captivating descriptions of the bakers and their establishments.
Publishing details
Clarkson Potter; (Oct. 11, 1994)
Hardcover: ‎160 pages
ISBN-13: ‎978-0517592212
Weight: ‎998 g
Dimensions: 28.7 x 1.6 x 22.3 cm
FREE SHIPPING