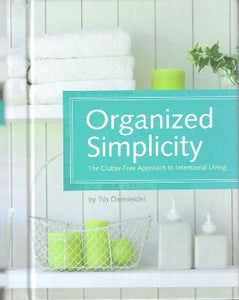 Condition: Like New
Simplicity isn't about what you give up. It's about what you gain. When you remove the things that don't matter to you, you are free to focus on only the things that are meaningful to you. Organized Simplicity will help manage your home, time, finances, and belongings. Inside you'll find:

A ten-day step-by-step plan that shows you how to organize your home.
Help you to identify what to keep and what to remove from your life.
Templates to help you take care of daily, weekly and monthly tasks.
Recipes for non-toxic household cleaners and natural toiletry items 

With this book, start living a more organized, intentional life today.
Publishing details
Betterway Home, (Nov. 21, 2010)
Spiral Hardcover: ‎256 pages
ISBN-13: ‎978-1440302633
Weight: ‎502 g
Dimensions: ‎ 2.5 x 15.2 x 20.9 cm