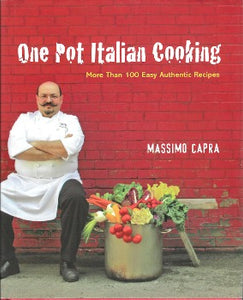 Condition: New -Rare Hardcover
Massimo Capra merges the ease of one-pot cooking with the splendid flavours of Italian cuisine in One Pot Italian Cooking designed with the everyday home cook in mind.   From rustic dishes to sublime crowd-pleasers, Capra introduces the taste of his homeland with dozens of Italian recipes. Each dish is cooked in a single pot—either a saucepan, skillet, or soup kettle.
Woven among the ingredients and directions are stories from the author's childhood in Italy, which share his personal connection with each dish. With braises, soups, risottos, pasta, salads, and desserts, this is the ultimate resource for Italian one-pot cooking. Lively colour photographs throughout the book capture Capra in the kitchen and the restaurant as he demonstrates techniques explains ingredients and shares his secrets and enthusiasm.

Publishing details
Madison Press; First Edition (June 2007)
‏Hardcover: 192 pages
ISBN-13: ‎978-1897330241
Weight: ‎895 g
Dimensions: ‎20.0 x 1.6 x 24.7 cm