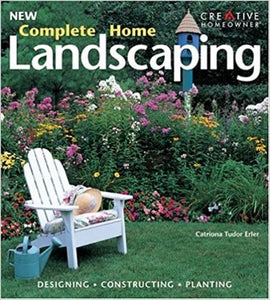 Condition: Very Good +  Text clean and unmarred.  The cover has minor rubbing. 
New Complete Home Landscaping is an updated, expanded edition of Creative Homeowner's award-winning comprehensive book on landscaping for the home. It covers every aspect of home landscaping, from design principles to construction projects; plant selection to plant care.
The book consists of three parts, Part One: Preparing to Landscape explains how to design and create a landscape. Part Two: Setting the Stage shows how to build such features as paths, ponds, walls, decks, and water systems. Part Three: Planting and Growing describes how to select, plant, and care for flowers, trees, shrubs, ground covers, and lawns.
Publishing details
Creative Homeowner; 2nd edition (Feb. 1, 2005)
Paperback: 384 pages
ISBN-13: 978-1857328332
Weight: 1.68 kg
Dimensions: 22.9 x 2.5 x 25.4 cm