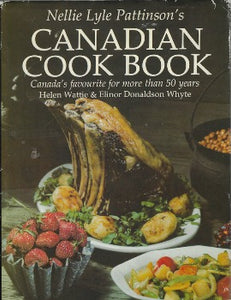 Condition: Very Good - Text is clear, crisp and unmarred.  Binding is tight.  
Nellie Lyle Pattinson wrote the Canadian Cook Book in 1923 which was reprinted 20 times up to 1949, always in a plain blue binding. Produced to meet the need for a recipe book for girls learning domestic science in the new technical schools, the blue cookbook quickly became the textbook in schools nationwide and is recognized as a Canadian historical reference. 
Nellie Lyle Pattinson's Canadian Cook Book is an updated, enlarged and generously illustrated edition with over 1400 recipes.  New trends in cooking have been incorporated but the old, time-tested favorites are still to be found in this edition.

Publishing details 
McGraw-Hill Ryerson; Third Printing edition (Jan. 1 1977)
Hardcover: ‎391 pages
ISBN-13: ‎ 978-0070826120
Weight: ‎961 g
Dimensions: 20.4 x 2.7 x 26.3 cm