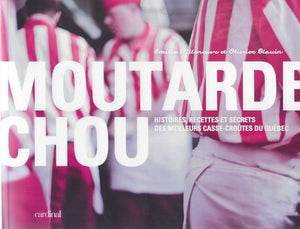 Condition: Good + Text is crisp and clean.  A few loose pages are neatly mended with library tape. /Condition: bon +Le texte est net propre. Quelques pages volantes soigneusement réparées avec du ruban de bibliothèque.
La journaliste Emilie Villeneuve a écrit l'histoire d'amour entre les Québécois et leurs patates à travers les portraits de ceux qui ont toujours passé leur vie aux fourneaux et derrière les comptoirs des meilleures cantines du Québec. De Rouyn-Noranda à Havre-Saint-Pierre en passant par Rosemont et  Drummondville, il nous proposent un road trip de plus de 7,000 kilomètres pour découvrir des histoires touchantes et les secrets de la monde des snack-bars, cuillères à graisse, cabanes à pommes de terre et autres roulottes.
Journalist Emilie Villeneuve has written the love story between Quebecers and their potatoes through the portraits of those who have always spent their lives in the kitchen and behind the counters of the best canteens in Quebec. 
Publishing details
Cardinal (French edition) (May 8, 2012)
Paperback: ‎224 pages
ISBN-13: ‎978-2920943438
Weight: 839 g
Dimensions: ‎ 27.7 x 2 x 20.4 cm