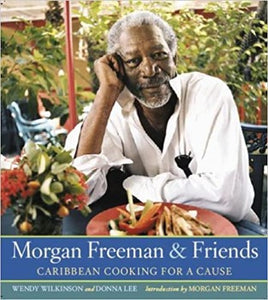 Condition: Like New
Academy Award®-winning actor Morgan Freeman and a group of celebrities contribute exotic recipes and personal island tales in a splendid cookbook created to help rebuild the hurricane-devastated island of Grenada in 2004.
Long-time island-lover Morgan Freeman established the Grenada Relief Fund in 2005.  This beautiful cookbook benefited the island in a time of need and all of the proceeds were donated to the Grenada Relief Fund.
This cookbook features more than 15 celebrities--including Michael Douglas, Kenny Chesney, Katie Couric, Tom Hanks, Hilary Swank, and Alicia Keys sharing their favourite Caribbean recipes, and telling heartwarming stories of what the islands mean to them. Renowned chefs from Caribbean hideaways reveal some of their most coveted Caribbean recipes.
Publishing details
Rodale Books; 1st edition (Oct. 3 2006)
ISBN-13: 9781594864247
Hardcover: 256 pages
Weight: 981 g
Dimensions: 20.47 x 2.44 x 23.55 cm