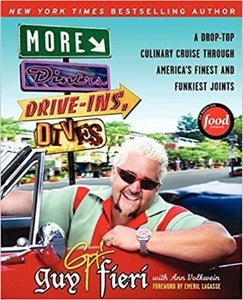 Condition: Very Good  -Cover has minor shelfware
Join New York Times bestselling author Guy Fieri, host of the hugely popular Food Network show Diners, Drive-ins and Dives, as he takes you on a tour of 60 more of the best local restaurants across America, as featured in his very favourite episodes. Wherever he goes, Guy showcases the amazing personalities, the fascinating stories, and most importantly, the good food provided by these American treasures.
Replete with recipes, photos, and memorabilia, and featuring Guy's hilarious voice and rampant enthusiasm for these hidden culinary gems, More Diners, Drive-ins and Dives is the perfect gift for lovers of the American food scene.
Publishing Details
Paperback: 256 pages
William Morrow (Nov. 3, 2009)
ISBN-13: 978-0061894565
Dimensions: 18.7 x 1.6 x 23.2 cm
Shipping Weight: 444 g