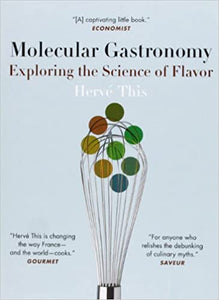 Condition: Like New Best Seller
Hervé This,  an internationally renowned chemist, uses recent research in the chemistry, physics, and biology of food to challenge traditional ideas about cooking and eating. What he discovers will entertain, instruct, and intrigue cooks, gourmets, and scientists alike.  Molecular Gastronomy begins by re-examining and debunking a variety of time-honored rules and dictums about cooking and presents new and improved ways of preparing a variety of dishes.  He goes on to discuss the physiology of flavor and explores how the brain perceives tastes, how chewing affects food, and how the tongue reacts to various stimuli. 
This shows us how to cook perfect French fries, why a soufflé rises and falls, how long to cool champagne, when to season a steak, the right way to cook pasta, how the shape of a wine glass affects the taste of wine, why chocolate turns white, and how salt modifies tastes.
Publishing details 
Columbia University Press;  (Aug. 18 2008)
Paperback: 392 pages
ISBN-13: 978-0231133135
Weight: 472 g
Dimensions: 15.49 x 2.03 x 20.37 cm