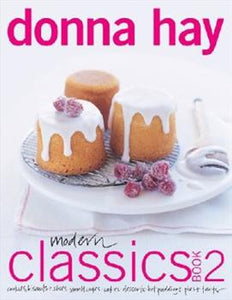 Condition: Very Good + Appears unread. Minor shelf wear.
In Modern Classics Book 2, Donna brings back trifle, lamingtons and vanilla slices, but gives them a modern twist.  She introduces biscotti, muffins and sugar grilled fruit, traditional Gingerbread Men and rich Chocolate Mousse to her individual Tiramisus.  She also includes dishes suitable for any occasion and any palate or diet.
Many of the dishes are accompanied by captioned photographs and have adaptations of the finished dish, as with the Shortbread, which provides lemon, ginger and lavender varieties.  "Short Order" pages have several short, snappy recipes that are quick, easy-to-prepare dishes and range from Tart and Bun Glaze to Creme Anglaise. Ingredients, methods and bakeware are described in the Glossary and Tools sections. 
 More Simple, Fresh and Practical from Donna Hay
Publishing Details
Ecco (Oct. 7, 2003)
Paperback: 192 pages
ISBN-13: 978-0060525897
Weight: 1.1 kg
Dimensions: 22.8 x 1.9 x 28.6 cm