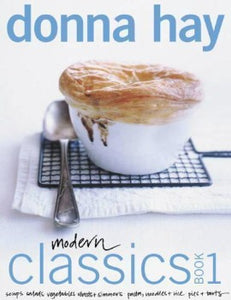 Condition: Very Good + Appears unread. Minor shelf wear.
In Modern Classics Book 1, Australia's bestselling food writer Donna Hay takes the food from the past we love the most and makes it irresistibly new. 
Hay gives step-by-step directions for making the essentials (stock, mayonnaise, fluffy rice). How-tos guide the home cook through the preparation of specific dishes (spinach and cheddar soufflé, freeform ratatouille tart, laksa, French onion soup, pad thai).  A sampler of recipes from around the world follows, offering variations on the kitchen skills and flavours introduced. Photos of beautifully prepared dishes are remarkable.  
 More Simple, Fresh and Practical from Donna Hay
Publishing Details
Publisher: Ecco (Oct. 22, 2002)
Paperback: 192 pages
ISBN-13: 978-0060095246
Weight: 1.1 kg
Dimensions: 22.9 x 1.9 x 29.2 cm