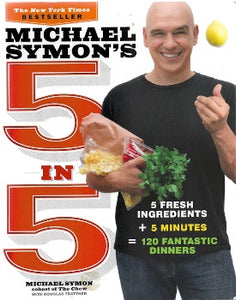 Condition: Very Good
With his boisterous laugh and Midwestern charm, Michael Symon has become one of the most beloved cooking personalities on television. For ABC's The Chew, he developed a brilliant, simple formula to help home cooks pull together fresh, from-scratch meals on weeknights: a maximum of five fresh ingredients that cook in five minutes. This cookbook ties into the segment, featuring dazzlingly quick, satisfying dinners that your whole family will love.

Michael shares 120 recipes for pastas, skillet dinners, egg dishes, grilled mains, kebabs, foil packets, and sandwiches illustrated in 75 photographs. This is streamlined cooking for busy families and firmly solves the "what's for dinner?" conundrum for home cooks. 
Publishing details
Clarkson Potter;  (Sept. 3 2013)
Paperback: ‎224 pages
ISBN-13: ‎978-0770434328
Weight: ‎652 g
Dimensions: ‎18.9 x 1.6 x 23.2 cm