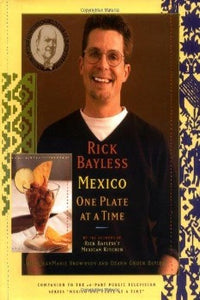 Condition: Like New Pages are clean, crisp and not marred by notes or writing. Dust cover -Like New 
Rick Bayless has been acclaimed widely as America's foremost proponent of Mexico's diverse cuisine. In Mexico One Plate At A Time he takes us, through Mexican markets, street stalls and home kitchens to bring us the great dishes of Mexico. And each "plate" Rick presents here is a Mexican classic. 

To complete the journey into the Mexican mindset, Rick ends each "plate" with a question-and-answer section detailing just about everything a home cook might want to know.  This user-friendly cookbook contains the full range of dishes—Starters, Snacks and Light Meals; Soups, Stews and Sides; Entrées; Desserts and Drinks. 24 colour photographs of finished dishes and photographs of Mexican locations throughout.
Publishing Details
Hardcover: 384 pages
Scribner (Oct. 25, 2000)
ISBN-13: 978-0684841861
Dimensions: 18.7 x 3.3 x 23.5 cm
Weight: 1.2 Kg