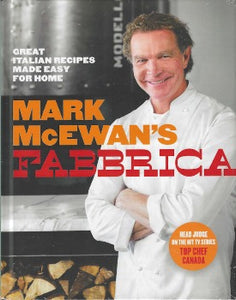 Condition: Like New Autographed -  Exceptional -  Appears unread
Celebrity chef Mark McEwan's love affair with ingredient-driven Italian cuisine dates back to his earliest days when his pasta dishes and risottos were the core of what put him on the culinary map. 
This book is composed entirely of recipes from the restaurant Fabbrica. From dishes perfectly suited to the summer table, like grilled swordfish with fennel and orange, to the robust fall flavours of kale, sausage, and bean soup, to everyday dishes like the famous Fabbrica pizza.  There are dishes for every occasion.  All of the recipes are easily manageable for the home cook, and all are highly flexible. 
Cooking with Great Canadian Chefs
Publishing Details
Hardcover: 312 pages
Viking; 1st ed. (Oct. 11, 2011)
ISBN-13: 978-0670065158
Dimensions: 20.3 x 3.2 x 26 cm
Weight: 1.2 Kg
Oversized title shipping surcharge $6.95