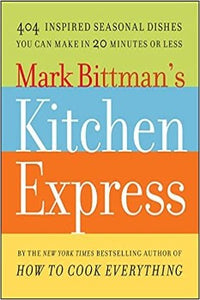 Condition:  Like New
Mark Bittman's Kitchen Express,  presents more than 400 incredibly fast and easy recipes tailored to each season and presented in a simple, straightforward style. Bittman's recipe sketches are the ideal mix of inspiration and instruction: everything a home cook needs to prepare a healthful, and cost-conscious repertoire of meals for any season and any time of day.
Written with an eye for speed and flexibility, you'll be in and out of your kitchen in 20 minutes or less. Bittman also includes a guide to the foods you'll want on hand to cook the Kitchen Express way as well as suggestions for seasonal menus.
Publishing Details
Simon & Schuster; Reprint edition (June 21, 2011)
Hardcover: 240 pages
ISBN-13: 978-1416575672
Dimensions : 18.73 x 1.52 x 23.18 cm
Weight: 706 g