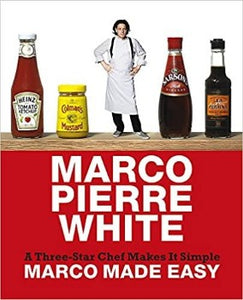 Condition: Like New Autographed
In Marco Made Easy, Marco Pierre White, a three-star Micheline chef serves up more than 100 recipes and shows the home cook how to get big flavours from store-cupboard ingredients. Olive oil, honey, mustard, soy sauce, vinegar, Hellmann's, Heinz and Knorr - they are all on the lists of ingredients here.
The book has sections for starters, shellfish, fish, meat, poultry, desserts. Beautiful photographs of each dish enable the reader to copy the master chef's presentation. The three main ingredients of Marco Made Easy are: Simple, Fast and Fun. 
Publishing Details
George Weidenfeld Nicholson; 1st ed (Sept. 1, 2010)
Hardcover: 190 pages
ISBN-13: 978-0297856511
Weight: 930 g
Dimensions: 19.9 x 1.8 x 26.3 cm