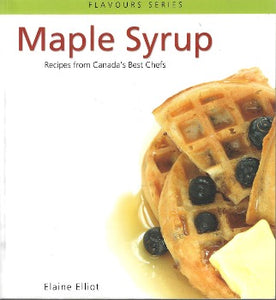 Condition: Like New - Minor shelf wear.
Maple Syrup features innovative dishes crafted with Canada's favourite all-natural sweetener. These maple syrup recipes have been created by master chefs in fine restaurants across Canada. The book offers a full gastronomic experience, with recipes for breakfast, side dishes, appetizers, main dishes, and, of course, desserts illustrated with beautiful photography.
For breakfast there is Maple Pecan Banana Pancakes or French Toast Stuffed with Maple Glazed Apples. Lunch dishes include Butternut Squash Soup with Maple Cream and Mesclun Salad with Maple Vinaigrette. Main dishes, such Maple Glazed Salmon with Parsnip Purée and Maple Glazed Pork Loin, show off the subtle flavour of maple. Maple Meringues with Peaches and Maple Sabayon, and in traditional favourites, such as Acadian Apple Pie and Grandpères au sirop d'érable define the special sweetness of maple syrup.  

Formac, Second edition (March 20 2006)
Paperback: ‎96 pages
ISBN-13: ‎978-0887806971
Weight: ‎358 g
Dimensions: ‎20.96 x 0.64 x 22.86 cm