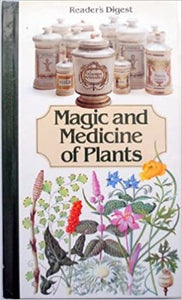 Condition: Very Good - Front fore-paper has the neatly inscribed name previous owner. 
Magic and Medicine of Plants brings together an authoritative, illustrated field guide; a how-to book for identifying, collecting, and reserving plants; the fascinating story of the legends and lore of medicinal plants; and a do-it-yourself guide to planting and using herbs in cooking, cosmetics, and health.
Magic and Medicine of Plants has compiled information about medicinal plants from scientific pharmacognosy, folklore, botany, and myth. The core of the book is a ``Gallery of Medicinal Plants,'' organized in alphabetical order by the plant's common name. Each entry includes a photograph of the plant in a field setting, a beautifully rendered color illustration, the history of the plant's medicinal uses, identification techniques, habitat, and scientific name.
Publishing details
Hardcover: 463 g
Reader's Digest, (1986)
ISBN-13: 978-0895772213
Dimensions: 16.9 x 2.9 x 28.3 cm
Weight: 1.2 kg