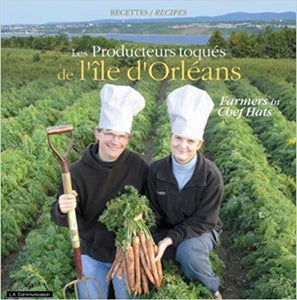 Condition: Like New - clean, crisp, unmarked and negligible edgewear
Farmers in Chef Hats is an agrotourism cookbook that features farmers of Île d'Orléans. Farmers put on the chef's hat and share their personal recipes with you. Discover their specialties, participate in the harvests and cook simple dishes.  Enjoy!
Ce livre de recettes à saveur agrotouristique met en vedette les producteurs de l'île d'Orléans. Ceux-ci, le temps d'un livre, coiffent la toque de cuisinier et partagent avec vous leurs recettes personnelles. Rencontrez les producteurs de l'île, découvrez leurs spécialités, participez aux récoltes et cuisinez des plats simples. Bon appétit !
Publishing Details
Paperback: 122 L.A. Communication
Language: French & English
ISBN-13: 978-2980972102
Dimensions: 21.3 x 21.3 x 1 cm
Weight: 526 g