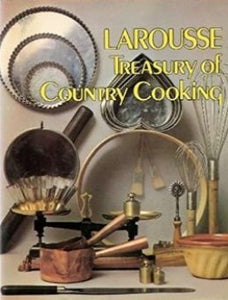 Condition: Very Good - copy remains in excellent condition. Dust jacket in very good condition.  Pages are intact and are not marred by notes, highlighting, food or water stains. A previous owner's name label is on the front fore-end paper. The spine is undamaged, and the binding is tight.
The Larousse Treasury of Country Cooking gathers hundreds of regional recipes evolved over centuries in country kitchens of many lands by ingenious, painstaking, and imaginative cooks using fresh low-cost locally available ingredients.  People for reasons of health, vitality, and weight, the trends in contemporary lifestyle are toward simplicity and informal entertaining.  A worldwide movement back to the basics are the reason for renewed interest in simple food, simply prepared.  
More than anything else this is a "discovery" cookbook.   It is down to earth and should be a boon to a family budget and a delight to all those whose taste buds are receptive to new dishes in their everyday menus.   From the introduction.     
Publishing Details
Hardcover:  511 pages
Crown Bonanza; (1978)
ISBN-13: 978-0517521014
Dimensions: 23.4 x 18 x 4.3 cm
Weight: 1.8 Kg
Oversized title shipping charge: $6.95