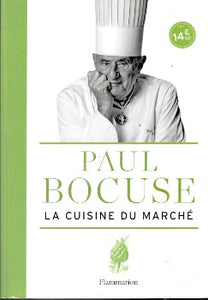 Condition: Like New/Comme Neuf

Découvrez près de 150 recettes de saison imaginées par le chef triplement étoilé Paul Bocuse. La Cuisine du Marché est un atout incontournable pour l'amateur de gastronomie. Le gratin lyonnais, le poulet de Bresse, les morilles à la crème, le pot-au-feu ou sa fameuse soupe aux truffes de l'Elysée vous invitent.
Discover nearly 150 seasonal recipes created by three Michelin star chef Paul Bocuse.  La Cuisine du Marché is an essential asset for the  gastronomy lover. Lyonnaise gratin, Bresse chicken, morels with cream, le pot-au-feu or his famous Elysée truffle soup invites you. 
Les détails du produit
Flammarion; (19 avril 2016)
Langue: ‎Français
Livre de poche: ‎240 pages
ISBN-13‏: ‎978-2081382619
Poids de l'article: ‎454 g
Dimensions‏: ‎18 x 1.4 x 25.4 cm