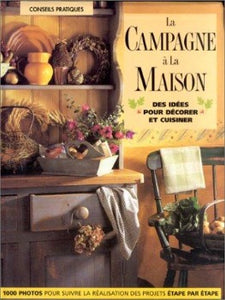 Condition: Livre de cuisine broché – comme neuf.  Coin supérieur légèrement usé 
La Campagne à la Maison offer des suggestions pour embellir vos meubles, sols et fenêtres en utilisant différentes techniques de peinture.  Des astuces pour décorer la maison: bougeoirs, fleurs séchées, cadres… Des recettes traditionnelles faciles à realiser: soups, salads, viandes, poisons, tartes, confitures, conserves.
La Campagne à la Maison offers suggestions to beautify your furniture, grounds and windows using different painting techniques.  It also offers tips for decorating your home with candlesticks, dried flowers, frames and more.  Also try some easy traditional recipes for soups, salads, meat and fish as well as pies, jams and preserves. 
Publishing Details
Paperback: 256 p
Manise: (April 8, 2002)
ISBN-13: 978-2841981823
Dimensions: 22.5 x 1.4 x 17.5 cm
Shipping Weight: 680 g
Language: French