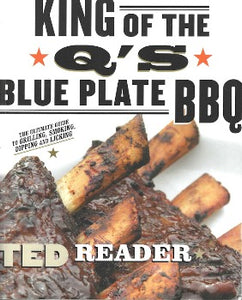 Condition: Like New - minor rub at lower edge
Barbeque champ Ted Reader is widely recognized as one of the world's most entertaining and engaging outdoor chefs and barbecue personalities.  Reader is a bold and passionate enthusiast who's a major name on the cookoff/barbecue circuit. 
The King of the Q's Blue Plate BBQ is the ultimate guide to real barbecue with gusto.  The recipes include: - Rubs & Marinades - Burgers & Sandwiches - Steaks - Beer Can Cookin' - smoking. Brimming with attitude, pyrotechnics, and a taste for fresh and bold ideas for the 'cue, this top-notch, appealing book is a backyard must-have.
Publishing details
HarperCollins Publishers Ltd;  (March 8, 2007)
Paperback: ‎272 pages
ISBN-13: ‎978-0006393511
Weight: ‎953 g
Dimensions: ‎19.1 x 2.7 x 23.3 cm
Free Shipping