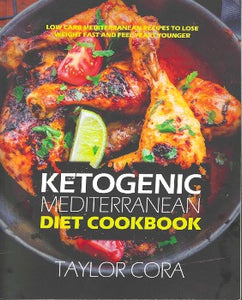 Condition: Like New   
With the goal of making a ketogenic Mediterranean lifestyle accessible and convenient for everyone, Taylor Cora combines her passion for healthy simple low-carb recipes with the Mediterranean diet. The Ketogenic Mediterranean Diet Cookbook includes the following sections:  
Introduction to the Keto Mediterranean Diet that explains the principles of the diet and shows you exactly how to achieve your health and weight loss goals.  
100 Amazing Ketogenic Mediterranean Recipes includes sections on Red Meat Recipes, Poultry Recipes, Seafood Recipes, Vegetarian Recipes, and Dessert Recipes, fully indexed. Nutritional Information is provided for each recipe.  
Ketogenic Mediterranean Diet Cookbook is your go-to resource for making the ketogenic Mediterranean diet a successful and enjoyable experience!
Publishing details
Independently Published (November 14, 2018)
Paperback: 144 g
ISBN-13: 978-1731314031
Dimensions: 19.1 × 23.5 × 8 cm
Weight: 258 g