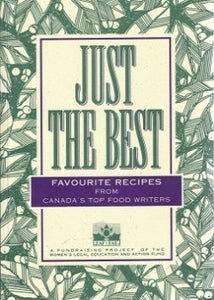 Condition: Like New   Appears unread - The text is clean and crisp. 
Celebrate Canadian Cooking.  The Just the Best cookbook was developed by volunteers and contributed to by some of Canada's top food writers as a fundraising project to support the Women's Legal Education and Action Fund (LEAF).  Elizabeth Baird, Pierre Burton, Carol Ferguson, Judith Findlayson, Anne Lindsay, Umberto Menghi, Rose Murray, Margo Oliver, Edna Stabler, Bonnie Stern, Anita Stewart, Lucy Waverman and many other well-known authors responded positively when asked to submit their favourite recipes.  The result was this compilation of 160 easy-to-make recipes.  
Established in 1985, LEAF has evolved into a national charitable organization that works towards ensuring the law guarantees substantive equality for all women, girls, trans, and non-binary people. 
Domestic Bliss Donates the proceeds of the sale to LEAF
Publishing Details
Paperback: 194 pages
MacMillan Publishing; 1992
ISBN 13: 97180771591860
Weight: 379 g
Dimensions: 17.8 x 1.3 x 25 cm