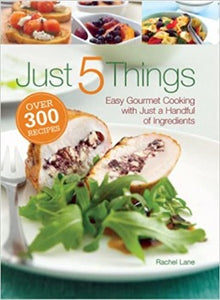 Condition: Like New  Minimal rubbing at extremities.  Contents are bright, clean, crisp and unmarked with tight,  sound binding. Appears as unread. 
Just 5 Things: Easy Gourmet Cooking with Just a Handful of Ingredients 
is a volume of more than three hundred quick to prepare recipes that use five or fewer readily available ingredients. Rachel Lane labels each recipe with a level of difficulty from quick and easy and those to inspire and challenge home cooks. The book is divided into 11 chapters offering recipes from mealtime to celebrations. All 320 recipes are complete with photographs illustrating the presentation of your completed dish. 
Publishing Details
Paperback: 704 pages
Reader's Digest (November 2008)
ISBN-13: ‎978-0762109807
Dimensions: 21 x 17 x 4.6 cm
Weight: 1.62 kg