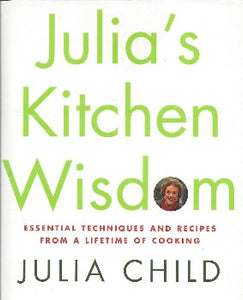 Condition: Like New Best Seller
In this indispensable volume of kitchen wisdom, Julia Child gives home cooks the answers to their most pressing cooking questions. Julia provides solutions for these and many other everyday cooking queries.  
Julia's Kitchen Wisdom is packed with essential information about soups, vegetables, and eggs, for baking bread and tarts, and more, making it a perfect resource.  With over 300 recipes, techniques and essential tips straight from Julia's kitchen experience,  information is arranged according to the subject matter, with ample cross-referencing.
All the answers are close to hand in this delicious, comforting, essential compendium of Julia's kitchen wisdom–a book you can't do without.
Publishing Details
Hardcover: 127 pages
ISBN 13: 9780375411519
Alfred A. Knopf (2002)
Dimensions: 17.9 x 1.7 x 21.9 cm
Shipping Weight: 420 g