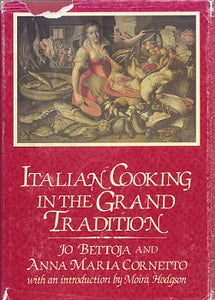 Condition: Very Good - The copy is clean and is like new.  Appears unread.  Dust jacket has shelf wear and tears. 
The great tradition of fine Italian food has been handed down through centuries from mother to daughter cook to cook and often old copy books.  Each dish offers a subtle blending of tastes both earthy and sophisticated is achieved by simple cooking using fresh ingredients of only the best quality and not complicated by techniques or sauces.  
Because fresh ingredients are at their peak central to this cooking, the book is divided into seasons.  Most menus are organized so that nearly everything can be prepared ahead of time there are also extensive notes on ingredients.  
There are several menus for parties as well as Christmas and Easter and other festive occasions. The desserts include chocolate almond torte, homemade ices and ice creams and almond shortbread.  
Publishing Details
Paperback: 304 pages
The Dial Press; 1st edition (January 1, 1982)
ISBN-10: 0385274246
Dimensions: 18.5 x  2.9 x 25.8 cm
Item weight: 880 g