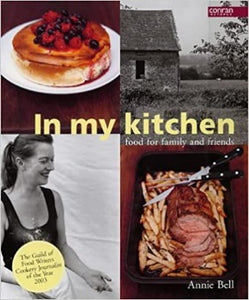 Condition: Very Good - Appears as unread. The cover has a minor crush at top of the spine, otherwise like-new condition. 
Food--making it, sharing it--has always been a wonderful gift of time and communion between family and friends. So, often, though the demands of life leave little time enthusiasm for cooking.
In My Kitchen is a lavishly designed, beautifully written cookbook.  Award-winning food writer Annie Bell shares more than 200 recipes for the simple, sensational dishes she serves to her own family and friends.
Publishing Details
Hardcover: 224 pages
Conran Octopus (May 1, 2004)
ISBN-13: 978-1840913552
Dimensions: 20.8 x 2.4 x 26.0 cm
Weight: 1.1 kg
Overweight Shipping Charge $6.95