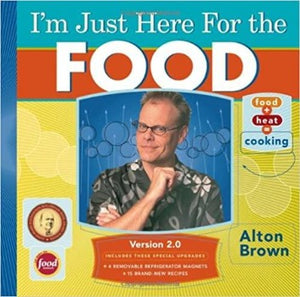 Condition: Very Good - Missing 4 removable refrigerator magnets.  No Jacket poster - otherwise this copy is in like-new condition.
I'm Just Here for the Food Version 2.0 blends humour, wisdom, history, pop culture, science, and basic cooking knowledge.  Alton Brown presents an indispensable, innovative, and instructional cooking guide that features various cooking techniques and provides a vast array of food-related tips and advice.
I'm Just Here For the Food: Version 2.0  winner of the James Beard Foundation/KitchenAid Book Award as best reference book, features 10 brand-new recipes and 20 pages of additional material. Each of the book's 15 sections is a module on a given cooking method—from pan-searing to pressure cooking, stewing to steaming—with a "master" recipe and a varied selection of recipes that demonstrates the technique. The text is accented throughout with food facts, history and lore, and science.  
Publishing Details
Harry N. Abrams; (Oct. 1, 2006)
Hardcover: 328 pages
ISBN-13: 978-1584795599
Weight: 1.26 kg
Dimensions : 23.81 x 3.18 x 23.81 cm
Oversized title shipping surcharge $6.95